A listed system from Det-Tronics tailored to your specific high and ultra-high-speed requirements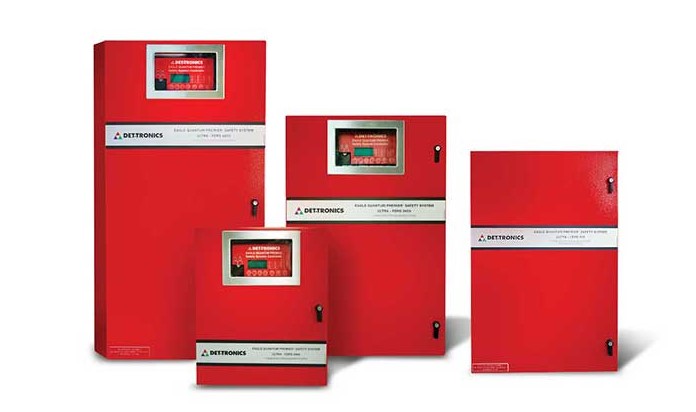 Meeting the life safety requirements for ultra-high-speed flame detection and releasing needs may be among the most demanding in the energetic materials manufacturing industry.
Fortunately, Det-Tronics engineers and high-speed specialists have considerable experience in meeting these challenges. They build the solution, adapting the appropriate listed system to meet the requirements of your application. System engineering can include cause and effects, factory acceptance testing and comprehensive drawing packages.
Why is a system listing important?
Because of code requirements and the hazard associated with these manufacturing processes, in addition to the potential for loss of life and damage that may occur in an event, Authorities Having Jurisdiction (AHJ) are requiring operators of these processes to install listed systems in many cases.
Listed systems are characterized by having both their individual components and the assembled system verified by approval agencies to meet the applicable codes and standards. That is why it is you should consider a listed system and not settle for a collection of certified or listed components.
Standards that may apply include:
United States Code of Federal Regulations (29CFR1910-OSHA)
Unified Facilities Criteria—UFC 3-600-01 Fire Protection Engineering for Facilities (United States Department of Defense)
National Fire Protection Association

NFPA 15 Standard for Water Spray Fixed Systems for Fire Protection
NFPA 72® National Fire Alarm and Signaling Code®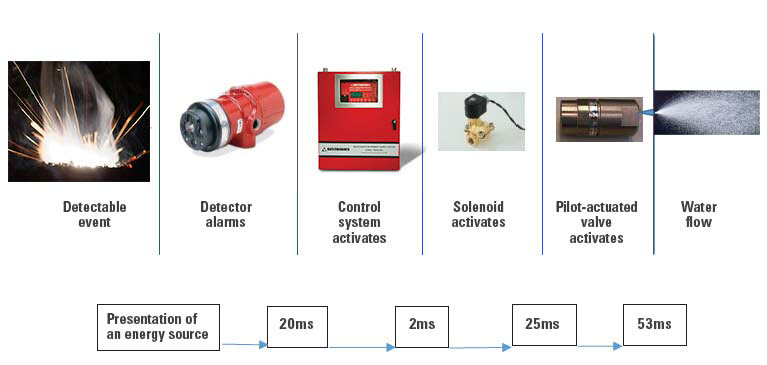 When milliseconds count
The processing and manufacturing of energetic materials, such as explosives, gun powders, propellants and pyrotechnic compositions present unique challenges for the protection of lives and property. These processes require a safety system response in milliseconds because of the potentially rapid burn rate of the materials and the damage that may result should ignition occur. In these instances, the maximum response time between exposure to an energy source and water flow is 100 milliseconds (ms). A listed ultra-high-speed flame detection and releasing system (Ultra FDRS) from Det-Tronics offers a solution Authorities Having Jurisdiction (AHJs) will appreciate.
The Det-Tronics difference is in the details and the experience
With more than 45 years of experience providing solutions to the most demanding fire and gas life safety challenges around the world, you are tapping into one of the most extensive pools of industry expertise in the world. Our products are designed to perform reliably in harsh, demanding environments. Our earlier high-speed deluge systems have been operating for decades. With changing technologies, dwindling access to parts and more stringent codes and requirements, it's time for the new generation to take over and serve your needs for decades as well.
Contact our High-Speed Specialists
Associated Products